Summer Seed Sale
Though the temperature is rising, our seed prices are falling. Shop now and save on the best Seed and WBU Seed Blends. Our seed blends:
are chosen by your local expert.
formulated to care for your birds.
contain no cereal fillers - just seeds your birds love.
Save on all 50,40, & 20 lb. Bags of Seed*
*Valid only at the participating store listed. One discount per purchase. Not valid with other discounts or previous purchases. Offer expires 7/31/17.

More Food, Less Time Refilling
With about two pounds more of ingredients, our exclusively formulated Large Seed Cylinders keep birds at the feeders longer because they have to work to remove seeds. So instead of birds swooping in, grabbing a bite and taking off, these cylinders give you a few extra moments of enjoyment.
Our No-Mess Seed Cylinders are packed with sunflower chips, peanuts, tree nuts, and cranberries - everything you need to get lots of birds to visit your backyard.
Buy 4 Seed Cylinder; get t Free*
*Of equal or lesser value. Valid only at the participating store listed. One discount per purchase. Not valid with other discounts or previous purchases. Offer valid thru 07/31/17.
WBU Seed Cylinder Feeder
Unique food requires a unique feeder. Our Seed Cylinder Feeders are the perfect blend of creative design and birdfeeding functionality. Whether you want to attract clinging birds such as woodpeckers or perching birds like chickadees, these feeders will accommodate a variety of birds and their eating preferences. They're easy to fill and are capable of housing our small (2 lbs) or large (4.5 lbs) seed cylinders.
We are looking for sales associates who are "for the birds."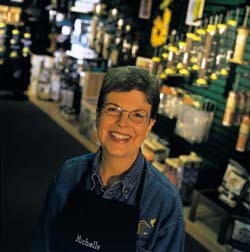 Wild Birds Unlimited® is the first and largest franchise system of retailing stores catering to the backyard nature enthusiast throughout North America. "We Bring People and Nature Together" is our mission and the very heart of our retail concept. From the day we opened the door of our first Wild Birds Unlimited store in 1981, our goal was to provide quality products, service, expertise and a pleasant shopping experience. You too could work at a Wild Birds Unlimited store and help customers bring nature into their own backyard and lives!
The difference between what we offer and what other retailers offer goes far beyond what we sell. It's who we are. Wild Birds Unlimited Sales Associates give our stores a competitive advantage that cannot be surpassed. Enthusiasm, professionalism, informed advice and superior customer service combine to help you in your role as a Sales Associate who can make a difference. Come join our team!
(To open the file, you must have Adobe Reader installed. Click here to download Adobe Reader.)
The support and training that we provide to our Sales Associates will enable you to function confidently in a retail environment. We offer a competitive wage in a pleasant working environment.
Work Environment:
Commitment To The Hobby Of Birdfeeding
Appreciation Of Nature
Interact With Great Customers
Positive, Professional Work Environment
High Standards Of Business Ethics
Wild Birds Unlimited Brand Products Contribute To The Store's Success
Training:
Complete Backyard Birdfeeding Training
Complete Retail Training
Sales Training
Employee Handbook
On-Going Training
Training Provided To Do The Job Well
Benefits:
Competitive Wage
Employee Discount
Flexible Hours
Recognition And Appreciation
Nature Happenings
• NABA National Butterfly count.
• Peak of River Bluet (dragonfly) flights
• Bison mating season
• First brood of immature hummingbirds begin to show up at nectar feeders early in the month.
• Thistle plants begin to seed; goldfinches gather thistledown for nesting material and begin nesting.
• Many species (robins, cardinals, bluebirds, etc.) may be in their second nesting.
• Mallards and Wood Ducks molt into "eclipse" plumage and are unable to fly for several weeks.
• Fall migration starts this month with shorebirds returning later in month.
• Katydids and Cicadas are in full chorus by late-month.
• Listen for the feeding screeches of young Barred and Great Horned Owls.
• Look for hummingbirds feeding on Trumpet Creeper and Jewelweed flowers.
• Many songbirds go into heavy molt.
• Great Blue Herons fledge.
• Delta Aquarids Meteor shower peaks in late-July.