During the hot and often dry conditions that make up the "dog days of summer," you will be doing yourself and your birds a big favor by providing them with a reliable source of water.
Water is very important to birds. Whether they are feeder visitors or not, birds need water. Offering a dependable source of water is probably the simplest and most important step you can take to greatly increase the variety of birds in your yard.
It can also significantly increase your enjoyment of your birds by allowing you to watch their often comical antics as they drink, bathe and preen.
However, as entertaining as it is for us, water (or the lack thereof) can be deadly serious for birds. Birds must be ready to fly at all times, and bathing is a critical part of feather maintenance and staying in top-flight condition.
Water is also vitally important when it's extremely hot and a bird's ability to regulate its body temperature can become stressed. Birds do not sweat and must remove excess body heat through their respiratory system. So when temperatures rise, a bird's respiration rate increases, sometimes to the point that it can be seen panting like a dog. This activity dehydrates birds and increases their need for a reliable source of water to replace lost fluids.
So, while the addition of a bird bath, fountain or mister to your yard can supply hours of enjoyable bird watching entertainment for you, it may also be providing a lifesaving necessity.
Drip-or-Mist
Whether they're feeder visitors or not, birds need water. Offering a reliable source of water is probably the simplest and most important step you can take to increase the number of birds in your yard.
Birds need water as much as they need food. Not only do they need it for drinking, but also for keeping their feathers clean.
$5 OFF $25* (Now thru 8/31/17)*
*Valid only at the participating store(s) listed. One discount per purchase. Offer not valid on previous purchases, gift cards, optics, DSC memberships or sale items. Offer expires 8/31/17.
Making the Most of Late Summer
Though this month marks the beginning of the end of summer, there are still plenty of opportunities to help birds and maximize your backyard enjoyment.
Hummingbird Migration
Millions of hummingbirds are preparing to fly back to their winter ranges. Hummingbirds have been migrating between North and Central America for hundreds of years, some traveling thousands of miles each way.
A high-calorie diet is important to build fat reserves for their trip, so be sure to have your hummingbird feeders ready.
Studies show that most of the hummingbirds visiting your feeders on a day toward the end of migration season are replaced by a new wave of migrants within 24 hours.
Offering Water
Whether they are feeder visitors or not, birds need water for drinking, bathing and preening. Offering a dependable source of water is the simplest and most important step you can take to increase the variety of birds in your yard.
Birds must be ready to fly at all times, especially during migration. Bathing is a critical part of keeping their feathers in top-flight condition.
Deter Unwanted Visitors
Mosquitoes lay their eggs in still water, so open sources of water can cause a potential mosquito problem. Use a fountain, waterfall accessory or Water Wiggler™ to create ripples and prevent mosquitoes from laying eggs in your bird baths. Water in motion is also more attractive to birds.
Visit us soon. We have everything you and your birds need to make the most of late summer.
How to Attract Birds with Water
August 21st 2017 about 11:20 for our area.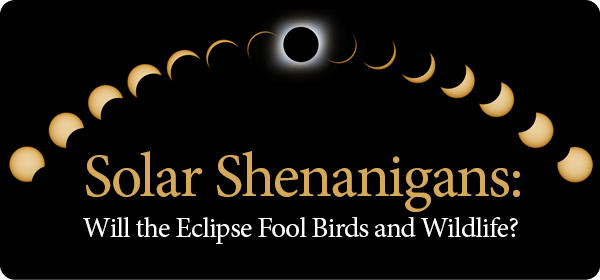 As the excitement builds towards the solar eclipse on August 21st, we are fielding lots of questions about what impact this spectacular event will have on birds and other wildlife.
There are numerous anecdotal accounts and observations that appear to show that many species of birds and other wildlife do react in different ways to the eclipse. These reactions can occur as the eclipse progresses and enters totality, as well as when the sun re-emerges.
Here are some of the reactions by birds and wildlife that have been reported to occur during previous total eclipses:
Birds
Confused Crooners - Songbirds have been noted to decrease their singing as an eclipse progresses, often to a point of total silence during the maximum darkness of totality. Speculations is that the darkening sky triggers the birds' night-time behaviors.
Out of Sync Singers - Observations show that some birds may also be confused by the re-emergence of the sun and a "dawn chorus" of bird song might be heard just as it would be during a morning sunrise.
Day or Night? - Numerous bird species have been reported to return to their night-time roosting locations as the total eclipse progresses. Starlings have been noted to return in large flocks to their roosts and display agitated behavior until the light returns to normal.
Night or Day? - Nocturnal birds such as owls, whip-poor-wills and nighthawks have been reported to either become active, take flight or call during total eclipses.
Fowl Rowel - Domestic fowl and pigeons have been observed to quickly return to their roosts or coops as the eclipse darkens the sky.
Savvy Shorebirds - Anecdotal observations seem to imply that in general, shorebirds seem to display very limited reactions to total solar eclipses.
Other Wildlife
Early Chirpers - Crickets have been widely observed to start "chirping" as the sky darkens and then fall silent upon the re-emergence of the sun. Katydids have also been reported to demonstrate this same behavior.
Silent Cicadas - Cicadas have been noted to end their shrill day-time calling and fall silent as the eclipse progresses.
Moving Mosquitos - During the darkest portions of an eclipse, mosquitos have been noted to emerge in mass.
Hustling Honeybees - Honeybees have been observed to return in swarms to their hives as the eclipse darkens.
Dream Weavers - Orb-weaving spiders, which generally re-weave their webs every night, have been observed to dismantle their old web during the darkness of an eclipse.
Busy Bats - Bats have been noted to emerge from their roost as the sky darkens and then return with the re-emergence of the sun.
Sly Skunks - Skunks, which are largely nocturnal, have been reported to come out and start foraging as it grows darker during an eclipse.
Sleepy Squirrels - Squirrels are reported to retreat to their nests during a total solar eclipse.
We are looking for sales associates who are "for the birds."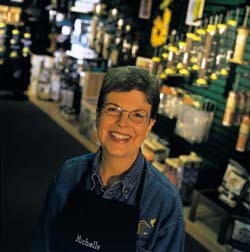 Wild Birds Unlimited® is the first and largest franchise system of retailing stores catering to the backyard nature enthusiast throughout North America. "We Bring People and Nature Together" is our mission and the very heart of our retail concept. From the day we opened the door of our first Wild Birds Unlimited store in 1981, our goal was to provide quality products, service, expertise and a pleasant shopping experience. You too could work at a Wild Birds Unlimited store and help customers bring nature into their own backyard and lives!
The difference between what we offer and what other retailers offer goes far beyond what we sell. It's who we are. Wild Birds Unlimited Sales Associates give our stores a competitive advantage that cannot be surpassed. Enthusiasm, professionalism, informed advice and superior customer service combine to help you in your role as a Sales Associate who can make a difference. Come join our team!
The support and training that we provide to our Sales Associates will enable you to function confidently in a retail environment. We offer a competitive wage in a pleasant working environment.
Work Environment:
Commitment To The Hobby Of Birdfeeding
Appreciation Of Nature
Interact With Great Customers
Positive, Professional Work Environment
High Standards Of Business Ethics
Wild Birds Unlimited Brand Products Contribute To The Store's Success
Training:
Complete Backyard Birdfeeding Training
Complete Retail Training
Sales Training
Employee Handbook
On-Going Training
Training Provided To Do The Job Well
Benefits:
Competitive Wage
Employee Discount
Flexible Hours
Recognition And Appreciation