Avoid Shell Shock; Try Tidy Dining
Have you ever experienced shell shock? That feeling of surprise as you survey the copious amount of shells that are left behind by your birds.
It's a common occurrence, but it doesn't have to be. That's because tidy dining solutions are one of our specialties.
Sure, we still have our No-Mess Blend, featuring seeds and nuts without their shells, but we now offer more tidy dining options than ever before.
Tidy Dining Solutions
Attract a Variety of Birds With Peanuts
Providing peanuts is a great addition to the choices you offer your backyard birds. Peanuts are a high-energy food and a wide variety of birds really enjoy them. Birds such as woodpeckers, titmice, nuthatches, chickadees, jays and more will frequent peanut feeders. Many of their visits will be to carry peanuts off to store for the winter. We offer a variety of peanut feeders and accessories.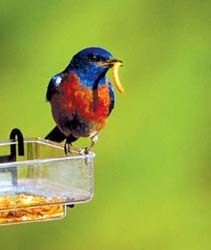 Attract Insect-eating Birds With Mealworms
Loaded with protein, mealworms attract a multitude of birds to your backyard. They're a dining favorite of many birds, including wrens, chickadees, bluebirds, mockingbirds, robins, thrushes, thrashers, catbirds and woodpeckers. Place mealworms in a feeder with smooth sides and enjoy the bird feeding frenzy that follows.


Now Every Tree Is A Bird Feeder®
More than 75 species of birds have been spotted eating Jim's Birdacious® Bark Butter®. Created by Jim Carpenter, founder of Wild Birds Unlimited, our exclusive Bark Butter is a tidy food that is easily spread on tree bark or a Bark Butter Feeder to attract birds such as chickadees, nuthatches, catbirds, cardinals, mockingbirds, wrens, woodpeckers, towhees, Brown Creepers, grosbeaks, robins and more.
Additional Tidy Dining Foods
• Peanuts – the best single source of protein and fat, peanuts attract most birds.
• Suet – high in fat and energy, suet is always a tidy dining option.
• WBU Bird Food Cylinders – long lasting and easy to use, Bird Food Cylinders allow you to refill your feeders less often.
• Jim's Birdacious® Bark Butter® and Treats - 100% edible, these dining delights are gobbled up too fast to leave a mess.
• Mealworms – a tidy, protein-rich food for attracting common and uncommon birds.
• Nectar – hummingbirds' favorite. Just keep it fresh, and there's no mess!
Tidy Dining Accessories
Offering the right food doesn't always solve the problem. Sometimes, you need some additional help. We offer a large selection of trays that catch the shells and keep your feeding station nice and tidy.